RECORD BREAKING 2020 AT DAY & CO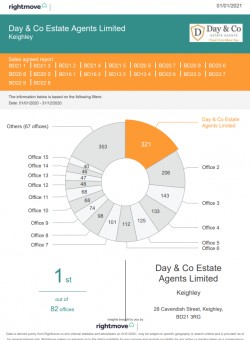 RECORD BREAKING 2020 AT DAY & CO!!
The final figures for 2020 are now in, and we are very proud to announce we sold more properties than in any other year since we opened our doors... A WHOPPING 321 PROPERTIES SALE AGREED IN 2020!!!
This smashes our previous record of 264 sales agreed in 2019
Not a bad effort on new properties coming to the market either, with 355 hitting our books in 2020!!
Once again on both fronts we were the NUMBER ONE agent in the Keighley area, now for the third year running - amazing consistency from the team, and an even bigger achievement considering the hurdles we have faced this year
Wishing all our customers old and new a happy and prosperous new year, bring on 2021!!
---
Posted on Tuesday, 5 January, 2021